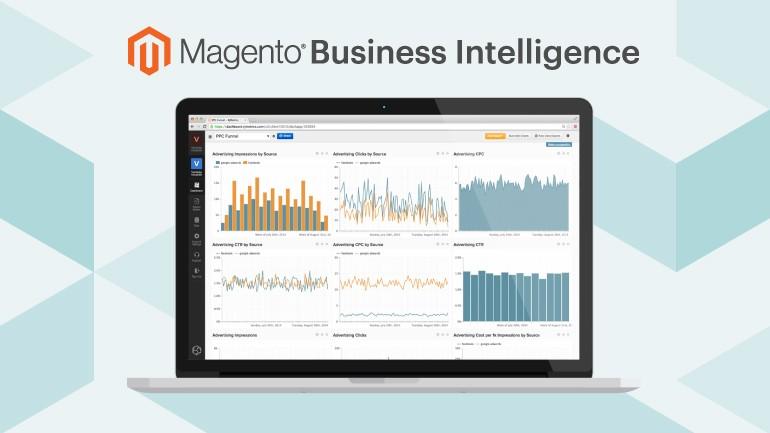 In the world of advanced technology, 'business intelligence' is an often-mentioned term. At its core, this term applies to the comprehensive analysis of acquired data. As you can imagine, there is a practical role for business intelligence in the e-commerce industry as well. Thanks to a recently introduced product by Magento, every online shop can now take advantage of this valuable technology. On top of that, this company has managed to make BI as simple as it can be.
Let's take a look what Magento Business Intelligence means, how you can utilize it, and why you should consider using it.
Magento Business Intelligence: The Background
The competition between e-commerce platforms has never been as intense as these days. We can see new e-commerce tools and all kinds of refinements being released on a monthly basis. This is exactly what is pushing the most popular platforms to come up with features that change the way you run your online store. As you are about to see, Magento's latest effort is poised to make significant changes in the online sales market.
Back in August last year, Magento acquired a company called RJ Metrics. This company was known for tools designed to offer highly sophisticated reports. After a consolidation period, Magento was ready to introduce this new tool at the company's Imagine Conference. The primary role of Magento Business Intelligence is to help businesses grow by making decisions based on data. Even though this sounds simple, this technology has incredibly deep and complex foundations. Let's take a closer look at what this exactly means.
Business Intelligence & Big Data: A Match Made in Heaven
As a proud Magento user, we are sure you know all about powerful analytics tools. After all, this is one of the main reasons for the popularity of this platform. However, these tools typically exist in different realms. It is up to you to combine those numbers and visualizations and make decisions based on your findings. With this said, we are sure you're using analytic tools from the following categories:
Website Traffic Analytics deal with your website's visitors. There are many tools available, where most of them come free of charge. One of the most popular is Google Analytics. This service allows you to see who is visiting your website, where they come from, how long they stay, and why they leave. In turn, this data can be used to implement design changes and make sure your Search Engine Optimization techniques are providing visible results.
Sales and Inventory Analytics deal with your store's products. They allow you to see which ones are popular, if there are any problematic variations, and they also let you take a look at the financial aspect of your store. This data is used to optimize the products you offer, change their prices or ways they are presented to visitors.
Marketing Analytics Tools present valuable data regarding the effectiveness of different marketing channels. The most capable ones can include various channels, like Facebook and Google Ads, as well as promotional banners on your website. Since marketing can be a significant cost, keeping this side of your business in check is of vital importance.
As you can see, you already have a lot of data in your hands. Now, try to think what connects all these tools? Not much, as it turns out. On their own, they provide invaluable data. But that is as far as they can go – if you don't have a capable tool that deals with this massive amount of information.
Magento Business Intelligence uses data from a number of different and seemingly independent sources. In other words, this tool consolidates the data, makes sense of it, and presents it in an easy-to-understand manner. It is like having a team of dedicated professionals who work on improving your online business. Instead, this is a complicated algorithm that allows you to fully leverage the data that you already have at your disposal.
Business Intelligence in Action
If you take a look at the official page of Magento Business Intelligence, you'll see it advertised as the tool that helps you to discover new growth opportunities. Perhaps the most valuable opportunity you'll get is to acquire customers who are willing to spend more. Let's take a look at how this can be done.
Magento 2 already comes with in-depth tools that analyze your customers. You can see the most valuable ones, their purchases, and their frequency of shopping. However, Magento Business Intelligence takes a bit more individual approach to this data. This is done by taking a look at different channels that bring customers to your store and comparing their effectiveness. In turn, this helps you to discover the most profit-friendly channels and invest your efforts in a more rewarding way.
As an example, let's take a look at the Customer Acquisition report. First, you will see a nicely designed graph that displays values of different channels. There are different ways to group the data, present different time periods, and other customization capabilities. Here, we are focusing on eliminating channels with the lowest ROI, which is where this tool excels.
Turning your customers into loyal fans is yet another challenge. Magento Business Intelligence helps with this by providing statistics about new and repeat customers. This is done by analyzing CLV (customer lifetime value) with open tickets and displaying that information as a percentage. This kind of information shows the effectiveness of marketing tools and design elements of your online store.
Custom-Tailored BI Solutions
At the moment, there are two ways to start leveraging this highly capable tool. Magento is offering two different packages aimed at small and large online business.
Business Intelligence Essentials is the entry plan that comes at an affordable price. You will receive 75 predefined reports, 5 different dashboards, ability to add up to 10 users, and more. As such, this is the perfect starting point that brings lots of predefined data that helps you to get started in no time. BI Essentials is priced at $100 per month, and there is a 7-day trial period.
Business Intelligence Pro is an enterprise-grade solution designed to handle large quantities of information. As such, this is a scalable and an incredibly sophisticated plan. BI Pro users are free to create unlimited reports, dashboards, and to share data between 20 users. Just like the Essentials plan, the Pro plan comes with pre-built data integrations. However, the real power lies in the ability to create an entirely custom-made BI system. This kind of flexibility and strength comes at a price ($400 per month).
It is also worth noting that users of Magento 2.2 can already use a small part of this technology. Thanks to Magento Advanced Reporting, the latest version of this platform includes 16 reports that deal with sales, categories, and products. In turn, it provides consolidated data via static and dynamic charts, and there's comparative analytics as well.
Final Thoughts
Up until now, business intelligence was utilized by Fortune 500 companies. Thanks to Magento, every online store owner can take advantage of this technology. Even though $100 per month isn't something that every online store owner can afford, this should be seen as a long-term investment. Remember that the end goal of BI is to increase your revenue. So, be prepared to spend some time learning how to take full advantage of this beneficial technology.
Without any doubt, Magento Business Intelligence is well worth the money. If you're serious about your business' growth and making sure your customers are happy, Magento's BI can be the best ally you'll ever have.
Uwe Weinkauf is the CEO of MW2 Consulting, experts in Enterprise Application Development, eCommerce, IT Outsourcing, and IT Operations that delivers valuable solutions for global business needs. You can learn more about MW2, or follow Uwe on LinkedIn.