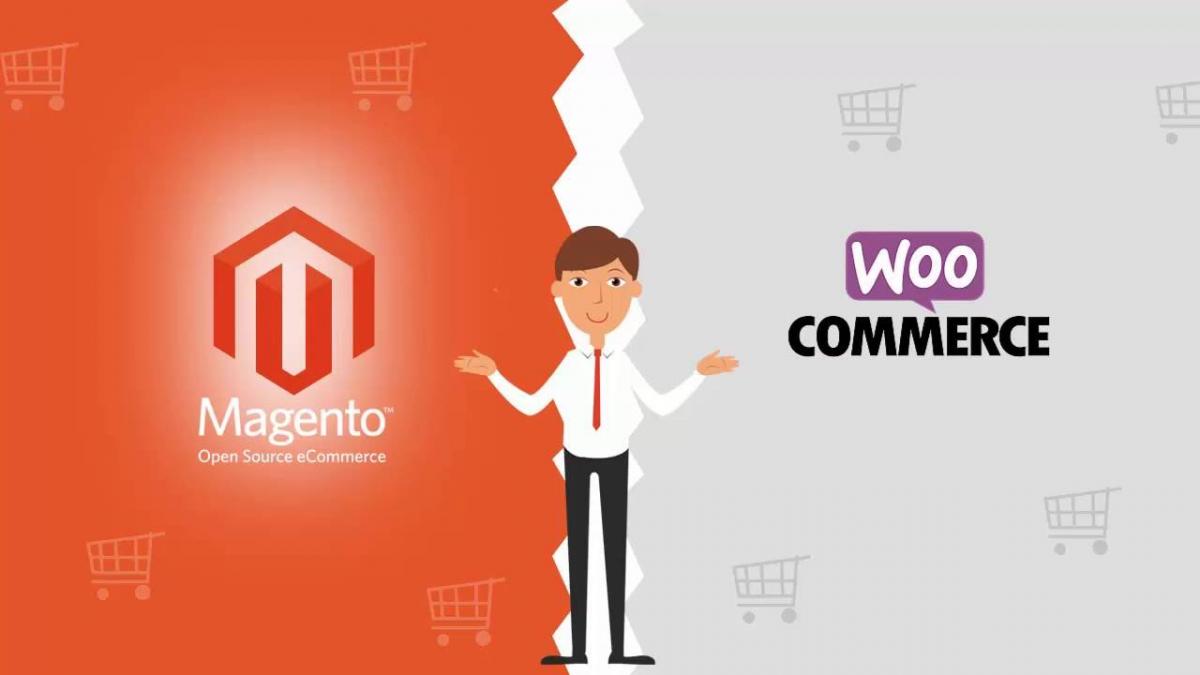 We are sure that you're already aware of how fast the world of eCommerce evolves. In addition, we are also sure you understand the importance of picking the most suitable platform. After all, this will be the primary tool for running your online business. A suitable platform will allow you to easily perform day-to-day operations and grow as your customer base grows. However, picking the right platform has never been more difficult. This is because every popular eCommerce platform is rapidly evolving – especially Magento and WooCommerce. These are two of the most widely-used platforms, which makes articles like this one a must-read before making a final decision.
We are here to help you pick the right tool for the job, or at least to clear any doubts. To do this, we'll compare these two eCommerce platforms based on their current capabilities. The only way to make a clear distinction between Magento and WooCommerce is to know their strengths and weakness. Without any further ado, let's jump right in.
Magento Vs. WooCommerce: Features
The most important thing you need to know before choosing an eCommerce platform is what kinds of features you can expect. This should be a crucial brick in the wall of your online store – the one that keeps all other aspects tightly connected.
The number of features is one of the most significant differences between Magento and WooCommerce. At their core, both of these platforms offer a set of industry-standard features. However, what makes a clear distinction is in how far each of these platforms can take you. This is where Magento is a couple of giant steps ahead of WooCommerce.
When we strip away bells and whistles, WooCommerce is a basic eCommerce plugin for WordPress. As such, it can be a handy tool if you're running a WordPress-powered website. Once the time comes for you to add an online store, you can do that using WooCommerce – free of charge. On the other hand, Magento is built from the ground up as a highly capable and flexible eCommerce platform. This platform provides the ability to build very simple stores or incredibly complex systems of multiple interconnected stores. This kind of eCommerce systems is very far from what WooCommerce can achieve.
Magento Vs. WooCommerce: Performance
Performance should be a critical factor when choosing an eCommerce platform. Unresponsive and slow-loading online stores can have a tremendously negative impact on your business' success. If a visitor experiences glitches, bugs, or long wait times, they are more likely to abandon your store and abandon their cart.
Magento is providing a solution to this concern via numerous performance-oriented features. The latest version of this platform brings intelligent systems that allow you to do 'heavy lifting' in the background without affecting your website's performance. In addition, Magento provides complete support for a highly capable caching method made by Varnish Cache. The only downside to this is that you might not be able to employ these systems on your own. Performance-oriented modifications include fine-tuning your database and other files located deep in your website's core. As a way to avoid potential problems, owners of Magento-powered stores may need assistance from highly skilled professionals.
When it comes to WooCommerce, there's a lot you can do on your own. Thanks to easy-to-use performance-oriented plugins, users are free to download and activate them on their own. In turn, these can improve certain aspects and make pages load faster. Still, problems arise when WooCommerce stores start to grow. As complexity increases, it becomes harder to ensure a smooth and error-free performance.
Magento Vs. WooCommerce: Security
When it comes to eCommerce websites, security isn't an optional aspect and the importance of implementing effective security systems can't be overstated. As you know, eCommerce websites process sensitive data like private information and payment details. Ultimately, your customers expect to be protected.
The good news is that both Magento and WooCommerce are dedicated to keeping their platforms as secure as possible. When it comes to WooCommerce, security can be further enhanced by using third-party plugins. These can pose a significant investment, but they should be seen as an essential prerequisite. However, this is where you can count on this platform's ease of use. This is because downloading and installing a plugin is incredibly easy. In addition, you can also remove conflicting plugins with ease, without being afraid that you'll affect your website's structure.
If you decide to go with Magento, you can expect one additional significant benefit. It is often stated that Magento provides the most effective security measures. This is done by installing regularly published security patches. The truth is that you can count on having a secure website even without relying on any plugins - but only if you keep your website updated. Still, this can involve working with a professional as installing security patches published by Magento can require some skill.
Magento Vs. WooCommerce: Ease of Use
There are two equally important aspects of every eCommerce platform's ease of use. You want to know how easy it is to set up a store, and how efficiently you can perform day-to-day operations.
WooCommerce is an eCommerce extension for WordPress. You probably know all about WordPress and its remarkable and often-mentioned ease of use. When you install WooCommerce to your WordPress website, this plugin doesn't add to your website's complexity. These two are made for each other – and they share the same core. You can easily upload new products, remove existing ones, and make all kinds of modifications. Also, you can perform other advanced operations on your own, like customizing your store's looks and installing plugins.
Now, let's take a look at Magento. No matter what you hear, there is no way that you'll be able to set up a Magento online store on your own. You can rely on helpful documentation to help you to get started, but you will need to consult a professional to finish the job. However, what also needs to be said is that you can count on fast and effortless day-to-day operations. Once a Magento website is set up, you don't need any advanced knowledge to run your online store on your own.
Magento Vs. WooCommerce: Costs
Last but not least, you need to be aware of the upfront and annual costs. This is perhaps the most significant differentiating factor between Magento and WooCommerce.
It is entirely possible to create an online store using WooCommerce without spending a dollar. This platform comes free of charge. This means that you can download and activate it free of charge – just like a WordPress website. However, you need to be aware of the expenses that come with Web hosting packages. Besides, if you need advanced functionality and a variety of payment options, you need to turn to third-party plugins. These are usually premium-priced. When we take all these factors into consideration, you can expect your online store to cost you up to several hundred dollars per year.
Magento comes in two different versions, where you can decide to go with its free-of-charge version. Just like WooCommerce, you can download and build your online store without spending anything. However, the problem is that you may find it difficult to create your store on your own. Aside from paying a Web hosting company, you may need to hire a developer as well. This can increase your upfront costs. On the other hand, you can avoid using Magento extensions as Magento comes with everything you need out of the box. In the long run, this can keep your annual costs under control.
It is also worth mentioning that there's a Magento Enterprise (now called Magento Commerce) edition. This edition will cost you significantly more but may be worth it given the size and scope of your store.
Final Words
As you can imagine, choosing between Magento and WooCommerce should not be taken lightly. This depends on your current needs and requirements. Still, don't forget to plan for the future. Try to imagine the future growth of your store – and then find a platform that will make that growth possible.
We hope you've found this article helpful as well as that you have a clearer view of the world's most capable eCommerce platforms.
About the Author: Uwe Weinkauf is the CEO of MW2 Consulting, experts in Enterprise Application Development, eCommerce, IT Outsourcing, and IT Operations that deliver valuable solutions for global business needs.

You can learn more about MW2 here, and follow Uwe on LinkedIn.